NC ALS Caregivers Conference
The 14th Annual North Carolina ALS Caregiver's Conference will be held on Saturday, September 23rd at the Harris Conference Center in Charlotte, NC.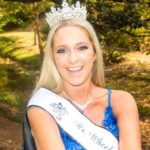 Keynote Speaker: Ali Ingersoll, Ms. Wheelchair America 2023
Ali Ingersoll, Ms. Wheelchair America 2023, is a DEI Strategy Consultant, healthcare advocate, writer, and public speaker. She started her advocacy mission after being repeatedly denied medically necessary equipment by insurance companies following a shallow water diving accident 13 years ago which resulted in C6 quadriplegia and the need for full-time wheelchair use.
Ali's passion lies in coaching people with disabilities on how to improve their quality of life through self-advocacy in order to live a life of independence, dignity, and grace. She has guided individuals and families for over the last 13 years on striking the right balance between ensuring individuals and caregivers are cared for. It's tough, but she has found tips and tricks to finding and hiring great human beings, and working with family caregivers, to ensure everyone feels safe and does not get overwhelmed. Communication is the key! Ali has worked with over 70 caregivers in 13 years between hiring people and working with her own family.  Ali's conference keynote presentation is entitled: "Change of Plans: Adjusting to the Unknown".
Additional Speakers
Leo McCluskey, MD
James Caress, MD
Shivangee Thorne, MSW, LCSW
Amber L. Ward, MS, OTR/L, BCPR, ATP/SMS, FAOTA
Katie Sewell, PT, DPT, Board- Certified Neurologic Clinical Specialist
Scott Holsten, PT, ATP
Amy Wright, MCD, CCC-SLP
Darci Pernoud OTD OTR/L CEAS
Rachel Hillberry MS RD LDN CNSC
Alex Adams, BSW
Alicia Richardson, MSW, LCSW
Date/Time
Saturday, September 23, 2023
Persons with ALS & their cargivers: 10:00 am - 4:30 pm
Healthcare Professionals: 8:00 am - 4:30 pm
People living in North Carolina with ALS and one caregiver may attend the conference free of charge.
TO REGISTER: Please complete the form below if you are a person living with ALS or a caregiver for a person living with ALS. If you'd like to add an additional caregiver(s) or family members as an additional attendee ($50 per person), please select the option on the registration form and CLICK HERE to pay the fee.
(**NOTE Healthcare Professionals seeking CEU's for the conference will need to register with AHEC - CLICK HERE.)
Caregivers Conference Registration
People living with ALS and their caregivers who are interested in attending the 2023 Caregivers Conference on September 23, 2023 in Charlotte, NC should complete this registration form. All registration fees are WAIVED for people living with ALS and one caregiver. (*Additional caregivers/family members may attend for a fee of $50/per person.) (**NOTE Healthcare Professionals seeking CEU's for the conference will need to register with AHEC, see link above.)
14th Annual NC ALS Caregivers Conference
Saturday, September 23, 2023
Harris Conference Center
3216 Cpcc Harris Campus Dr.
Charlotte, NC 28208